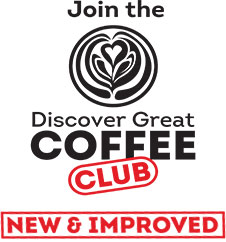 NEW Delivery System!
Get your coffees within 3 days of ordering
(Excludes weekends and public holidays)
The Coffee Magazine's Discover Great Coffee Club, is proud to partner with The Online Beverage Store. All of the coffee featured here will be available through Discover Great Coffee (as a box) or from The Online Beverage Store (as individual units) Usual Discover Great Coffee Club annual subscriptions and once off boxes ordered will now take 3 days from order date of order. All Discover Great Coffee Club boxes will come with a free Coffee Magazine and every now and again a few goodies, on us! Online Beverage Store will be running really great specials too for the next 3 months with these coffees, so go to
www.discovergreatcoffee.co.za
to order a box and keep checking
www.onlinebeveragestore.co.za
often to order the individual coffees and take advantage of great coffee shopping specials!

You have until 21 September 2017 to order Drop 18
Days left to order:
24
Hoedspruit Coffee Purveyors
Hoedspruit Coffee Purveyors is situated in the little town of Hoedspruit in the heart of the Lowveld. They pride themselves on roasting micro-batches only – ensuring the quality you'd expect from hand-crafted coffee. This is the India Karnataka: Tasting notes resemble stone-fruit, spice and nuts. This coffee pairs well with Baklava, Apple Crumble and Pancakes. 100% Arabica, single origin, ethically traded.
Fleet Coffee
Fleet Coffee Rostery is situated in the heart of the Boland on the magnificent Val de Vie Polo estate, in Paarl. It is surrounded by the most beautiful mountains and incredible vineyards. Fleet has several unique single origin coffees, roasted to a unique profile. These include Brazil, Guatemala, Uganda, Cameroon and Rwanda. This Fleet House Blend consists of a Brazil, Uganda and Guatemala. Roasted and blended to a secret recipe, the flavour notes are a bright citrus acidity, with a rich dark chocolate undertone.
Pause Coffee Roastery
Pause Coffee Roastery, based in Wilderness is known as 'the home of speciality coffee in the Garden Route' according to owner Wessel Kruger. "Perfection is the goal with meticulous detail given in every step of the coffee making process, from speciality green bean sourcing, roast profiling, cupping and solubility testing with a refractometer" This coffee is called Yadah's Delight, an omni roast named after the Roastmaster's daughter, an East African blend which is medium-bodied, with sweet, citrus, chocolate and floral notes. This blend especially shines in a cappuccino and presents complexity and balance with a pour over.
Alchemy
Alchemy Artisan Coffee Roasters from Welgemoed in the Western Cape presents a carefully selected and roasted El Salvador microlot AAA bean, medium roasted with a hint of acidity and bold flavour. It rolls off the tongue revealing hints of blueberry and sweet honey blossom.
Boston Coffee Roasters
Situated in the suburb of Boston, Bellville this little gem in the Northern suburbs of Cape Town was formed out of a desire to bring the best coffee to the people, channeling passion and a love for coffee into every bean and cup. Focusing on passion and craftsmanship, Boston Coffee has continually displayed these qualities in finer details every roasting, even roasting their coffees on a custom engineered hand-built coffee roaster and frequently roasting smaller batches which guarantees excellent quality. The roastery uses several single origins from Africa, Central and South America; with "Dagbreek" their house blend consisting of 4 single origins: Brazil, Costa Rica, Ethiopia and Nicaragua.
Bean Green - Durban
Goodness Gracious. This single origin Ethiopian Lekempti is a natural processed coffee grown at high altitude with a bright acidity and a floral upfront flavour that lingers in the mouth. A medium roast, it is great brewed manually and best enjoyed listening to retro tunes on vinyl.