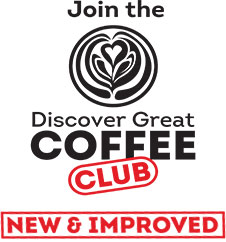 The next drop is:
Drop 16 - Delivery on 23 March 2017
Days left to order:
16
Masterton's
From the Oldest coffee Roastery in SA and an iconic institution in Port Elizabeth, Masterton's brings you a new look and a new taste experience in Blend 1388: A blend of Central American and African Arabica Beans,that produces a rich dark crema, which produces great latte art! This blend is great as an espresso.
Cabal Coffee
From the mastermind behind Urban Espress and one of the most respected palate's in SA, Donovan McLagan, a new brand with some serious flavor! This is a Rwandan Bukeye from Long Miles Coffee. Red Burbon, medium bodied with a very clean mouth feel. The acidity of green apple, sweetness of wild honey, fruit likeness of paw paw and passion fruit.
Stereo Coffee
Our house Espresso Blend contains beans from Guatemala, Rwanda and Brazil. A popular choice for milk-based espresso drinks. Dark Chocolate notes with hint of orange citrus and stone fruit. Subtle sweetness with balanced acidity and bitterness. With milk it makes a great tasting flat white, cortado and cappuccino!
Fat Boston Coffee
Kona Koncept was born through the founders love for the coast & coffee. The blend consist of one of the world's finest arabica variety – the Kona bean from Hawaii has a certain romance to it. Kona's desired climate is sunny mornings, rainy afternoons and mild nights. Combine the joy of Hawaii with the sweet persuasion of the Colombian San Agustin, and you have a perfect match. Its smooth toffee sweetness lingers in your mouth. A sweet, bright and clean blend, with a full body syrupy mouthfeel. The avid coffee drinker will appreciate it, and the everyday coffee drinker will be hooked on it. The Kona Koncept is a divine pleasure and you will soon realise you have never enjoyed a cup of coffee like it.
Spout Coffee Co
Spout Coffee Co is a charming little spot in The Village, Pretoria. Their Signature Blend is a delightfully floral yet bold coffee, with aromatic and deep tones of cherry and orange. It has a creamy mouthfeel and a distinct lingering vanilla finish.
König Coffee
Blended to perfection from the Americas, Africa and Indonesia's favorite coffee producers. The single origins are roasted to a preferred style, rested and then blended and packed to secure freshness for your pleasure. Enjoy a very well balanced coffee with a smooth, full body mouth-feel and the taste of cacao back notes from the Central American beans, Acidity of the African continent and earthiness of Indonesian Origins exploding on your palette as an Espresso and the round sweetness of a Flat White or Cappuccino a South African all-time favourite.