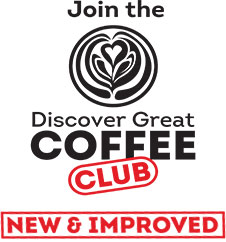 NEW Delivery System!
Get your coffees within 3 days of ordering
(Excludes weekends and public holidays)
The Coffee Magazine's Discover Great Coffee Club, is proud to partner with The Online Beverage Store. All of the coffee featured here will be available through Discover Great Coffee (as a box) or from The Online Beverage Store (as individual units) Usual Discover Great Coffee Club annual subscriptions and once off boxes ordered will now take 3 days from order date of order. All Discover Great Coffee Club boxes will come with a free Coffee Magazine and every now and again a few goodies, on us! Online Beverage Store will be running really great specials too for the next 3 months with these coffees, so go to
www.discovergreatcoffee.co.za
to order a box and keep checking
www.onlinebeveragestore.co.za
often to order the individual coffees and take advantage of great coffee shopping specials!

You have until 11 September 2018 to order Drop 22
Days left to order:
81
Aura Bean Roastery
Aura Bean was a dream that became a reality in 2017. "We are quite new in the roasting world and we want you to enjoy our Guatemala, single origin roast with a rich aroma and hints of nuts and chocolate" say Owner, Lambert Fourie. This traditional style coffee has medium grapefruit-like acidity and a medium body.
East London Coffee Co
Under the Cutman & Hawk umbrella, the East London Coffee Co. offers their popular Signature Blends, a blend of five premium quality Arabica beans which combine to form a well balanced coffee with dark chocolate, honey and marmalade undertones. The range includes their C&H Roasters Reserve blend along with a selection of single origin coffee all of which is available online.
Bean Authentic
Bean Authentic Roasters is situated in Monte Vista suburb, Cape Town. Birthed out of a passion for coffee, they are proud supporters of Fairtrade, offer 4 blends, and single origins including Brazil, Columbia, El Salvador, Guatemala, India, Nicaragua, Rwanda, Uganda and Ethiopia. Their aim is to improve the quality of coffee to the end user #NoMoreBadCoffee!
Humble Roasting Co
We're a speciality coffee roasters based in the heart of Durban. As a social enterprise we like to focus on people over profit and try to do everything with social good in mind. This Uganda Bugisu is our signature roast and features lemon acidity with after-notes of dark chocolate.
My Brew Coffee
This Coffee Roastery, run by Frederik Kruger and his team is based on the Maties Campus, keeping the young minds of SA sharp and energised with their well balanced Ethiopian, Ugandan and Kenyan blend. It is deliciously smooth, with chocolatey characteristics, low acidity and medium sweetness.
Sihle's Brew
Sihle's Brew signature blend is a Kenyan, Ethiopian, Tanzanian and Brazil blend of deliciousness. It is delicate, sweet, fruity and chocolatey with a well rounded smoothness to it. Sihle has become extremely popular in the north of Johannesburg supplying the local Spar's, Food Lovers and PnP's with this blend. Enjoy!