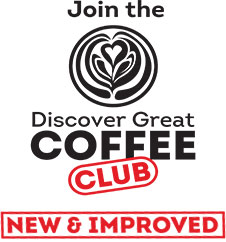 NEW Delivery System!
Get your coffees within 3 days of ordering
(Excludes weekends and public holidays)
The Coffee Magazine's Discover Great Coffee Club, is proud to partner with The Online Beverage Store. All of the coffee featured here will be available through Discover Great Coffee (as a box) or from The Online Beverage Store (as individual units) Usual Discover Great Coffee Club annual subscriptions and once off boxes ordered will now take 3 days from order date of order. All Discover Great Coffee Club boxes will come with a free Coffee Magazine and every now and again a few goodies, on us! Online Beverage Store will be running really great specials too for the next 3 months with these coffees, so go to
www.discovergreatcoffee.co.za
to order a box and keep checking
www.onlinebeveragestore.co.za
often to order the individual coffees and take advantage of great coffee shopping specials!

You have until 22 June 2017 to order Drop 17
Days left to order:
20
Bayhound Coffee Works - Polokwane
Bayhound Coffee Works came about when Pieter Le Roux moved to Polokwane and decided to build his own coffee roaster out of, well, anything he could find (there's a pink bicycle somewhere that's now missing a pedal). The medium-dark roasting of this big-hearted Zimbabwe single-origin has brought out its subtle fruitiness and beautiful body.
Clock Peaks Coffee Roasters - Swellendam
Clock Peaks Coffee Roasters opened its doors in July 2016 in the beautiful town of Swellendam in the Overberg area (3rd oldest town in the country) below the Clock Peaks of the Langeberg mountain range.
There is a saying; 'Allow your passion to become your purpose, and it will one day become your profession', and that is the Clock Peaks coffee story.
Their Swellendam Blend is a medium rich full-mouth coffee featuring an all Africa bean blend of with a bright acidity, pleasant citrus and floral notes with an earthy finish.
Brothers Coffee
Finding its beginnings in Uganda, Brothers Coffee has a close affinity to the heart of Africa. This single origin from the Northern Province of Rwanda is well balanced. It will leave an explosion of red apple and berries in your mouth with a honey like sweetness. Another reason why this Roastery, neatly tucked away on the Garden Route is passionate about chasing delicious.
Crown Coffe - Tzaneen
Crown Coffee, situated in the small town of Tzaneen, is a small scale roastery dedicated to serving quality coffee, in bean or per cup. At Crown Coffee we believe in roasting our coffee to a Full City roast, developing the sophisticated flavours enjoyed in an espresso and cappuccino alike".
Tulip - Hermanus
Tulip is a small, exceptional coffee roastery based in Hermanus, with a loyal local following. The coffee featured here is an Ethiopian / Guatemala blend and has a delicate grapefruit scent to the nose and has a light and well balanced profile in the mouth. It is fruity, bright and best used in slow brew methods.
Uber Coffee
Uber Coffee a CAPE TOWN based roastery and has been roasting coffee for 4 years, staying true to the small batch (15KG & 30KG) artisanal method. Uber uses a mix of 100% Arabica beans from South & Central America and Africa.
The resultant blend of the above 3 origins offers up an extremely smooth chocolate textured cup, with a lively, interesting "back-of-mouth" taste profile and very clean & pleasantly lingering aftertaste. The blend brings a completely versatile coffee that can be enjoyed in any of the multiple brewing methods, providing the grind is appropriate.