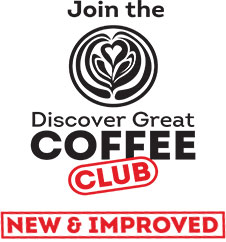 NEW Delivery System!
Get your coffees within 5 days of ordering
(Excludes weekends and public holidays)

You have until 10 March 2022 to order Summer 2022
Days left to order:
49
Exhale Coffee
Roastery - Cape Town
In keeping with the theme of roasteries that were born this year, we are offering a coffee from its birthplace in Ethiopia. This Yirgacheffe is a light roast, with a floral aroma, notes of sweet, dried apricot and delivers a creamy finish with citric acidity. Best brewed using pour-over methods.
Roasters Mug
Dundee
The Dundee Blend from The Roaster's Mug is a silky, full bodied coffee with notes of chocolate and nuts. This roastery in Northern KZN roasts small batches by hand and is dedicated to putting fresh coffee into people's hands at an affordable price.
C&P Roasters
Mossel Bay
Our Mossel Bay Blend is one that we are most proud of, and for good reason, it is a medium acidity Arabica blend, with beans from the Americas that is creamy, has a subtle taste of dark chocolate, Sea Salt, caramel toffee and chest nuts. This coffee has a beautiful aroma of both the fertile fruity soil of the americas coupled with the lingering smell of fresh ocean spray, roasted medium, capturing the coastal breeze in our harbor side roastery. Our Mossel Bay blend is enjoyed in a variety of extraction methods, we recommend enjoying it with a cold brew extraction method.
Cuppa Coffee
Nigel
This coffee is a delightful mix of Honduras, Nicaragua, Brazilian arabicas with some Robusta to perk up your day. The cocoa, chocolaty flavours endemic of Central Americas, a fully developed medium coffee, on the darker side of medium. It is Stretch Roasted, perfectly merging all these flavours into a wholesome flavourful cup. The residual nippy and light, berry-like acidity will leave you wanting, for more. With or without milk its for you to decide, both cups are awesome. The complexity is the Cuppa Coffee Blend, the lingering is in the cup. Experience it yourself, our local area, coffee shop' preferred coffee to serve.
The Machinist
Coffee Co - Kloof
The humble Brazilian Cerrado bean, naturally processed, is our favourite bean. A great profile of roasted peanuts, fresh butter aroma and well rounded acidity with a smooth cocoa powder finish. Best enjoyed as an Aeropress americano on a slow Sunday or as your daily double shot macchiato throughout the week.
The Lucky Dice
Stellenbosch
This coffee has been specially roasted to mark the nomination of the of the Coffee Magazine's "Best New Roastery" award. We are delighted to share with you the coffee that we feel represents us. Uncomplicated and easy drinking, pulped natural processed bourbon.