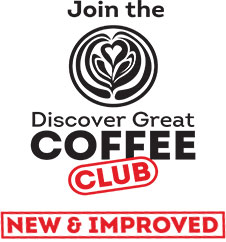 NEW Delivery System!
Get your coffees within 5 days of ordering
(Excludes weekends and public holidays)

You have until 9 June 2022 to order Autum 2022
Days left to order:
14
Drakensberg Coffee Roasters
Newcastle
This Colombian bean is produced in the Popayan region, on the Eastern slopes of the highest mountain range in the country. The medium/dark roast brings out an intense, sweet cherry flavour with a chocolaty aroma and a creamy body, to make it ideal for a flat white or cappuccino. The perfect coffee for those who want to start reducing the sugar.
Frisky Goat Coffee Roastery
Cape Town
Frisky's Medium Roast Blend combines African & South American Beans. The Roast profile portrays the sweetness of honeycomb, a note of red cherry and allspice on the nose, along with a mild apple acidity and smooth mouthfeel.
Monarch Coffee Cartel
Paarl
The ideal blend for the entertainer, with its exquisite taste in the mid palate it leaves you craving for more. Made up of washed Arabica Brazil, Rwanda and El Salvador, you will enjoy chocolate on the nose with subtle lime acidity, finishing off with a melon taste giving a luxurious full body. Available in 250g reusable tins & refill bags
Cedar Coffee Roasters
Cape Town
Cedar was founded by Leigh Wentzel and Winston Thomas out of a yearning passion to make specialty coffee accessible to a larger conscious audience. It was built from many years within the industry mastering the craft for over seven years at leading roasteries within South Africa. This Seasonal blend is a good balance of sweetness and body. The roast profile suits espresso-based drinks with its toned down acidity and smooth mouthfeel. A perfect coffee for the morning and everyday use, you will enjoy a balanced, smooth mouthfeel with notes of pecan nuts & milk chocolate.
Thirteen CoffEE Co
Mpumalanga
Grown in the sunny Santa Rose valley near the Jumaytepeque volcano in Guatemala, this single origin coffee bean has been roasted to enhance the deep, dark chocolaty notes with just a hint of nuttiness in the aroma. Leaving you with a lingering cocoa powder finish. Pure winter perfection. Versatile in any brew method yet best appreciated when made using a moka pot or in your espresso machine.
Balance Coffee roastery
Stellenbosch
Speciality Naturally Processed Rwanda Peaberry - Bursting with distinct bwlueberry flavours. A pleasant bright taste and aroma with beautiful natural sweetness. An exciting new coffee experience awaits at Balance Coffee Roastery at the Nature Reserve just off Jonkershoek rd in Stellenbosch.