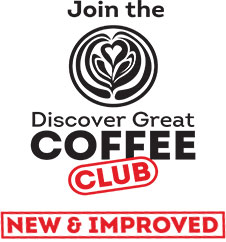 Championship Coffees: The Top 6!
This issue we bring you coffee from the highest placed coffee roasters in the country in this years A Shot in the Dark coffee roasting competition. Out of a field of over 60 coffee roasters in South Africa, these are the best 6 coffee roasters in this year's event.
Taste the signature flavours of these championship roasteries as they put forward their favourite current coffee for you to enjoy! Stocks are extremely limited - first come, first served at www.discovergreatcoffeeclub.co.za
R640 incl vat
and includes delivery anywhere in SA.


You have until 9 December 2023 to order Spring 2023
Days left to order:
1
Baard & Co
Durbanville
Our Speciality Blend was developed off "the Shot in the Dark" blend we created. The origins within the blend are Brazil, Nicaragua, and Colombia. We strive for versatility within our coffee, but this blend is especially good in espresso, tasting notes of Citrus fruit, berries, with a lingering aftertaste of sweetness.
Airabica
Pretoria
This Nicaragua Sarchimor Microlot is an extremely special coffee! It is from the Matagalpa Region in Nicaragua and is produced by Ramiro Ortez from Rajuanse Estate. As a light roasted bean it promises characteristics of honey, berries, vanilla and is medium bodied and very smooth. Best enjoyed as a manually prepared black filter coffee like a pour over or chemex, but it is also delicious as an espresso.
The Roastery
Mossel Bay
At The Roastery in Hartenbos the team take pride in every step of the coffee process. This local blend is roasted for the community and is designed for the most discerning Palate. With flavour notes of Milk chocolate, nuts and toffee this blend is a crowd pleaser of South American and African beans. The Vyeboom blend the best of both worlds!
Brothers Coffee
Groot Brak
(Boo-go-lobi. It's a mouth full but so is the taste!) Due to its versatility, this is one of our most popular coffees. The Bugolobi blend is a versatile full-bodied coffee with a soft acidity, nutty dark chocolate notes and a buttery smooth finish. An excellent all-rounder enjoyed black or with milk.
Above Ground
Glenashley
Produced by the Nuevo futuro coffee growers association made up of more than 200 families in Cauca, Colombia. This Washed Castillo, Colombia and caturra varietals are grown between 1600 - 2000masl. Super versatile coffee Expect : yellow fruits as filter ; vanilla as a milk based. Our favourites: Pour over or Flat white.
Blue Door Coffee Roasters
Simon's Town
Discover the captivating allure of the Blue Door House Blend. Engage your senses in a symphony of flavours - from opulent chocolate to velvety caramel, accompanied by delicate notes of fruity sweetness. With a medium roast, relish its creamy, smooth mouthfeel. Its versatility is its charm, perfect enjoyed diverse ways; personally, milk-based resonates intimately.