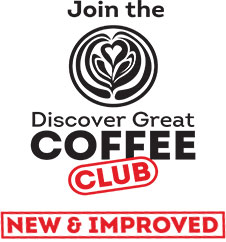 NEW Delivery System!
Get your coffees within 5 days of ordering
(Excludes weekends and public holidays)

You have until 10 December 2021 to order Drop 36
Days left to order:
11
Infood Coffee Roastery
Peru, Grade 1 Organic. This City roast brings out a delicious aroma of chocolate and hints of spice. There are prominent black tea notes with a delightful mild acidity and a creamy body. Try it black or as an espresso before you add steamed milk to experience the full transformation of flavours, this single origin Peru has to offer!
Exhale Coffee
The Void is our house blend and exemplifies what we aim for at Exhale Coffee Roastery: excellent coffee from African Origin. It was designed for espresso, but tastes great as a French Press or Moka pot. Medium to dark roast, with chocolate and caramel notes and a hint of berry fruitiness.
Toro Coffee
The Colombia Tabi: The Colombia Tabi is a variety that was developed and released in 2020 by Cenicafe by crossing the varietals: Bourbon, Typica and the Timor Hybrid.
In this lot, a Carbonic Maceration fermentation for 96hours followed by fully washed process and slow dried for approximately 18days was followed. Notes of strawberry, watermelon and sweet orange with an aftertaste of red fruit and molasse is the result of this.
The Black Sheep Coffee Co
Nicaragua Rajuanse Estates family reserve H1
This Nicaragua, Rajuanse Estates Family reserve H1 natural farmed by Ramiro Ortiz on Buena Esperanza is a great natural that displays notes of jasmine and cranberries, it is medium bodied and smooth with a high complex acidity we love it brewed as a pour over in our Chemex or as a French press
Gegrond
Zambia, Natural.
Handpicked, anaerobic fermented natural coffee from Zambia grown between 1300 and 1500 masl. This coffee reminds us of sweet red wine and red berries with a juicy mouthfeel. We recommend using an Aeropress with a short brewing time of 1min using 20g of coarse ground coffee and 200ml of water.
Favour & Grace
El Puente: This washed blend from El Puente Mill is creamy and smooth with bold notes of almonds and vanilla. The aftertaste is sweet caramel and almonds. Perfect for a dessert flat white or clean Aeropress.
Espresso: Ratio 1:2,5 (25s - 30s)
Aeropress: 16g fine ground, 220g Water (1min 30s) Pour, Stir, Hold, Press.