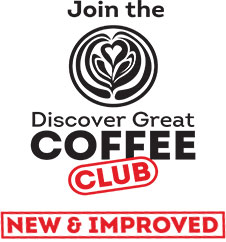 NEW Delivery System!
Get your coffees within 5 days of ordering
(Excludes weekends and public holidays)

You have until 9 September 2022 to order Winter 2022
Days left to order:
22
Crater Coffee
Parys
Choc Noir is a blend of Arabica Brazil and Guatemala beans. Medium/dark roast, it suits a variety of brewing methods: V60 dripper, percolator, French press, bean to cup machine or moka pot. It packs a powerful punch in an espresso and has an exceptionally smooth taste in a cold brew. This blend makes a delicious cappuccino with nutty notes, fruity berry tastes and a lingering chocolaty aftertaste.
L.I.F.E Coffee
Pretoria
This Costa Rica Central Valley is a catuai honey-processed coffee from the Heredia region. It is medium bodied, with a milk chocolate sweetness, dark fruit flavours and mild acidity. This coffee is grown at 1500 masl - Like we say: Living in Full Elevation!
Wild Coast Coffees
Kei Mouth
Experience Africa through the taste of coffee! This Ethiopian Bensa is a medium roasted, washed Sidamo bean. It is aromatic, having a nice sweet, clean, flavour with a hint of florals and nicely balanced with a slight lemony acidity that compliments the natural flavour of the beans, with beautiful aftertaste without bitterness.
Urban Grind
Johannesburg
The house blend from Urban Grind is a no-nonsense medium roasted blend, which features the best of what Honduras and Brazil have to offer. This coffee is packed with flavour notes that are punchy, full of dark chocolate and have a nutty aftertaste.It is perfect in milk beverages or just as an espresso.
Numbela Coffee
Azyview
The Pura Vida from Costa Rica is an expression of happy optimism and living life to the fullest! Boldly represented in this medium roast, with an aroma of apples and walnuts and flavour notes of red apple, medium malic acidity, hints of blueberries and a lingering creamy aftertaste. It is a 50% Caturra, 50% Catuai shade grown coffee, washed and roasted to deliver a clean, complex cup.
Fingers Crossed Coffee Co
Emmarentia
This coffee is a Geisha-Malawi from the Ntchisi Mountain region in Malawi. It is grown at an altitude of 1300 - 1500 m.a.s.l and fully washed with a 24hr dry fermentation. This delicious coffee has medium malic acidity, notes of dark chocolate, walnuts and plum with an aftertaste of smooth chocolate and sea salt. It is full bodied and rich!