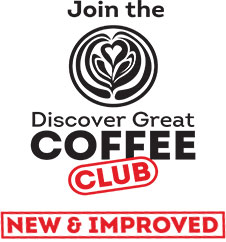 NEW Delivery System!
Get your coffees within 5 days of ordering
(Excludes weekends and public holidays)

-->
You have until 29 September 2021 to order Drop 34
Days left to order:
66
Infood Roastery - Coffee Society - JBay
This single origin Nicaragua will entice your senses with a deep toasty aroma of walnuts on the nose, a medium citric acidity on the tongue and good body all around your mouth as you savour the chocolaty notes and lingering cocoa aftertaste with each sip!
The Roasters Mug - Dundee
The Dundee Blend from The Roaster's Mug is a silky, full bodied coffee with notes of chocolate and nuts. This roastery in Northern KZN roasts small batches by hand and is dedicated to putting fresh coffee into people's hands at an affordable price.
Backyard Brew - Cape Town
This exceptional coffee from Nicaragua Sajonia Estate is versatile as it's subtle sweetness can be enjoyed over various brewing methods. You can expect deep chocolate flavours, walnuts, with a bright, citric acidity and balanced sweetness.
Rise & Grind - Durban
The Rise & Grind 'Good Morning Blend' is slightly sweet with undertones of caramel and almond, finished off with a lingering dark-chocolate aftertaste. This two-bean blend from Colombia and Brazil is medium-roasted for a perfectly smooth morning brew. Enjoyed as an espresso or in milk-based coffees.
Faber Coffee - Durbanville
Maximus - the Latin term for the "greatest" or "largest" The farmer is Max Perez of Finca La Hermosa Farm in Guatemala. This coffee truly lives up to its name as the Pacamara varietal is one of the largest coffee bean varieties cultivated and with a SCA score of 88 it is not only large but exceptionally great. Grown at an altitude of 2000M ASL coupled with its Natural process is what attributes to this phenomenal flavour profile of creme caramel and whiskey.
Brüder Coffee Roasters - Klerksdorp
Ethiopia Adado Yirgacheffe is a Natural Processed Coffee. This coffee is sweet, soft & easy drinking in a milk beverage with medium acidity and hints of blueberries. Adado is at it's best in Filter Methods (Especially Chemex or Pour Over). Slurp the coffee untill it reaches the back of your palet and you will get a burst of Blueberries!