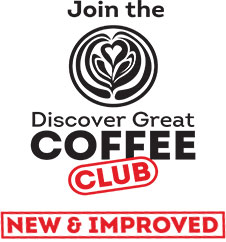 NEW Delivery System!
Get your coffees within 3 days of ordering
(Excludes weekends and public holidays)

You have until 26 March 2020 to order Drop 28
Days left to order:
28
The coffees included in this drop!
HUMBLE
Durban
Rwanda Gatare Lot 4- We were excited to see Cultivar Coffee source 5 new lots of Gatare after working with this special coffee last year. Gatare is a washing station in West Rwanda in the district of Nyamasheke. It is one of the oldest and bigger washing stations in Rwanda and has been producing great coffee for a number of years. Expect a bright, balanced cup with notes of ripe blackcurrant and raspberry accompanied with sweet malt chocolate.
AFRIROAST
Paarl
AfriRoast's medium to dark roasted blend of 100% Arabica beans, from Uganda and Ethiopia, has a deep rich flavor with a soft finish, characteristic of East African coffee beans. "AfriRoast source top-quality beans. AA-certification verifies its high quality, without defects or impurities that affect the roasting process and ultimately, the taste." Say Kobie Malan from Afriroast.
BLUEBIRD
Westville
Juana Salucio and her husband have been producing coffee on their 5 hectare farm, Canalaj in Huehuetenango, Guatemala for 25 years. She says, "Our family depends only on the cultivation of coffee, that is why every morning we get up motivated to do the work better." They are focused on quality picking, sorting and processing. The result is a bright, clean coffee that has been our favourite espresso this year. Expect a floral aroma before visions of biting into a pink grapefruit. Happy holidays!
REDBERRY INJA TRUST
Mpumalanga
Ina and Japie (Inja) moved into the Sabie River Valley, Mpumalanga in 1972.
The blend of a healthy lifestyle, love for life and search for adventure led them and their three sons to plant coffee in this subtropical region.
This 100% South African coffee is a collaboration with RedBerry. Cured and roasted to highlight the pioneering farming spirit of this family.
MASTERTONS
Port Elizabeth
'Tis the Season to be merry with Mastertons' annual Christmas Blend. Central American and African Arabica Coffees come together in this medium roast, with a bit of added dark roast for a festive kick. Full bodied, with chocolate and cocoa flavours followed by a sweet finish.
COASTAL COFFEE ROASTERS
Durban
The Genesis blend from Coastal Coffee Roasters delivers a Colombia Excelso, Ethiopia Sidamo and Tanzania AA, air roasted to second crack, and is best enjoyed as a balanced espresso, presenting bright fruity notes and subtle acidity.