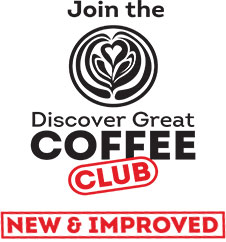 NEW Delivery System!
Get your coffees within 3 days of ordering
(Excludes weekends and public holidays)

You have until 5 September 2019 to order Drop 26
Days left to order:
13
Winter drop!
Taste this coffee from six of the TOP 10 Shot in the Dark Finalists. Limited quantities available.
First come first served...
The Coffee
Tanzania - The Mondul Estate Grade AA
The Mondul Coffee Estate is situated on the slopes of Mount Monduli. This unique location provides the perfect conditions for the cultivation of the highest quality Arabica beans. The estates altitude is between 1,600-1,800 meters above sea level and the volcanic soils and good availability of water make this location ideal for coffee production. The estate takes quality very seriously and the farm has some of the most modern coffee processing machines in Tanzania.
These 6 Roasters all placed in the top 10 of A Shot in the Dark using this incredible Tanzanian from the Mondul Estate. There were 43 Coffee Roasteries from around SA that competed in this competition, and these are the Roasters that brought out the very best flavour in this coffee according to the 4 qualified Q-graders who meticulously scored and judges these roasts. Now, you have the opportunity to taste exactly what they tasted - The same 83,5 specialty coffee, roasted 6 different ways. Can you taste the difference?
WINGS COFFEE ROASTERS
Jaco Kok
PAUSE COFFEE ROASTERY
Machiel Carstens & Wessel Kruger
ROUTED ROASTERS
Ansophi van der Merwe
BEETHOVEN COFFEE CO
Branden-Roy Unsworth, Claire Andersen & Trevor Fitz
BROTHERS COFFEE
Ben Ferreria
RED TRUCK COFFEE ROASTERY
Frans De Wet Beukes