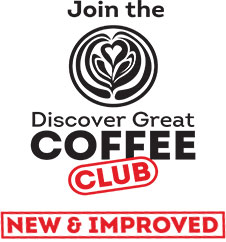 NEW Delivery System!
Get your coffees within 3 days of ordering
(Excludes weekends and public holidays)

You have until 23 May 2019 to order Drop 25
Days left to order:
29
DIGGERS GOLD COFFEE
This is one of Diggers Gold Coffee's best-selling single origins: Kenya Blue Mountain. Your palate will take you on a full-fruited aroma journey. Notes of cherries and grape dominates with a citric acidity. This medium body is sweet with a clean minty aftertaste.
EARTHEN
A blend of 6 carefully selected arabica coffee beans, this exceptional coffee boasts a vibrant, intense, perfectly balanced, flavor of chocolate & spice. Clean, rich, smooth, earthy, subtle yet extremely pleasant with a winey-lemon-cinnamon expression, that boasts excellent crema. An aroma of flowers & citrus dusted with cocoa. A medium to full bodied coffee which is popular blend where the sweetness enhances all milk based drinks.
VILLAMAR ROASTERY
Take your palate on a journey your imagination can grab on to; from the African coastline country of Kenya meander up to the rugged landscapes of Ethiopia and then ship all the way across the Atlantic to the rainforests and volcanoes of Guatemala. This cup of medium to dark roast with notes of macadamia, flowers and a citrus clarity, somehow mellows the adventure towards the end with a lingering gingery biscuit goodness.
LADHA COFFEE
Celebrating the 1963 liberation movement and its individuals who gathered and fought for the emancipation of South Africa. Tanzania, Ethiopia, Zambia & China are among the coffee origins that helped liberate SA. With complex acidity of gooseberry, sweet white grape with a hint of toffee and caramel.
BLUE BIRD COFFEE ROASTERY
As specialty coffee roasters, we tend to favour single origins, however we love the idea of a well constructed blend. Coffee is seasonal so the components change but the goal remains the same. Sweet, approachable and delicious. Highlighting The Friendly Blend currently is a beautiful Rwandan, adding notes of sweet caramel and marmalade. Plus, a 183% premium was paid for it, which makes us happy!
BRUDER COFFEE
"Bruder is German for brother, which is a true friend that will never leave you" says the message on the back of the Little Bro Blend. This coffee has a floral aroma is medium to full bodied, well balanced sweet after taste.