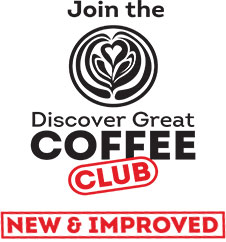 NEW Delivery System!
Get your coffees within 5 days of ordering
(Excludes weekends and public holidays)

You have until 29 September 2021 to order Drop 34
Days left to order:
12
Scorpio Roastery - Durbanville
This is a one of a kind in South Africa. The Mocha Java limited edition blend: Indonesia Mandheling and Yemen Haraaz. Scorpio have blended a Yemen Haraaz and Indonesia Mandheling to bring you a most delicious blend and the only Mocha Java in South Africa that contains Yemeni Coffee. Notes: Full bodied, Sweet, Caramel, lingering sweet berry aftertaste Suggested brewing method: Espresso, French Press (Plunger), Chemex, Pour Over, Filter, Aeropress
Gnarly Coffee - Welkom
https://www.gnarlycoffee.co.za/
The GNARLY blend is a creation of lockdown experimenting. It's a blend of 3 South American coffees and one African. Medium roasted to bring out sweetness and chocolate notes, perfect for all types of coffee drinkers. The Pride and Joy of Gnarly!.
Cuppa Coffee Roasters - Nigel
https://www.cupparoasters.co.za/
Blended Central American beans, strictly High Grown from Nicaragua, Colombia, Brazil. Robusta added for caffeine kick! A perfected roast profile to bring out the Caramelly sweetness. Dark Chocolaty flavours, a thick Crema, salivating fragrances of a dark, rich coffee. A smooth long lasting full-bodied, aftertaste. A more-than-one cup type coffee.
Sorcery Coffee Roasters - Queenswood
COSTA RICA , MARCO ROJAS
RED HONEY PROCESS
https://sorcerycoffee.co.za/
This Coffee is for the adventurous palette. It displays a Vibrant Acidity that quickly smoothes out into a Sweet, Syrupy coffee with notes of Red Rascals, Chewy Raspberry and Red Toffee Apple with a lingering Creme Brulee finish. Paired with Milk, this Costa Rica turns to Turkish delight and the exact Milk Chocolate taste from Nestles Quality street chocolates.
Gegrond - Murrayfield
https://gegrond.co.za/
This Brazil Cerrado is a naturally processed Bourbon varietal coffee, that grows between 800 & 1300 masl in the Cerrado Mineiro region of Brazil. It is sweet, with a good aroma, good body and medium acidity. Tasting notes: hazelnut, almonds and dark chocolate, with a buttery mouthfeel. Cupping score: 82
Roast of Earth - East Rand
https://www.facebook.com/roastofearth.coffee/
This Kochere lot from Ethiopia hits you with an intense citrus acidity mingled with florals and berries, so if you enjoy fruity floral notes in your coffee, then this for you! It has a smooth, clean mouthfeel with hints of chocolate and a dry crisp finish. Brewing suggestion: Best enjoyed with a bit of pressure at 1g:16g ratio (coffee:water) through an aeropress.